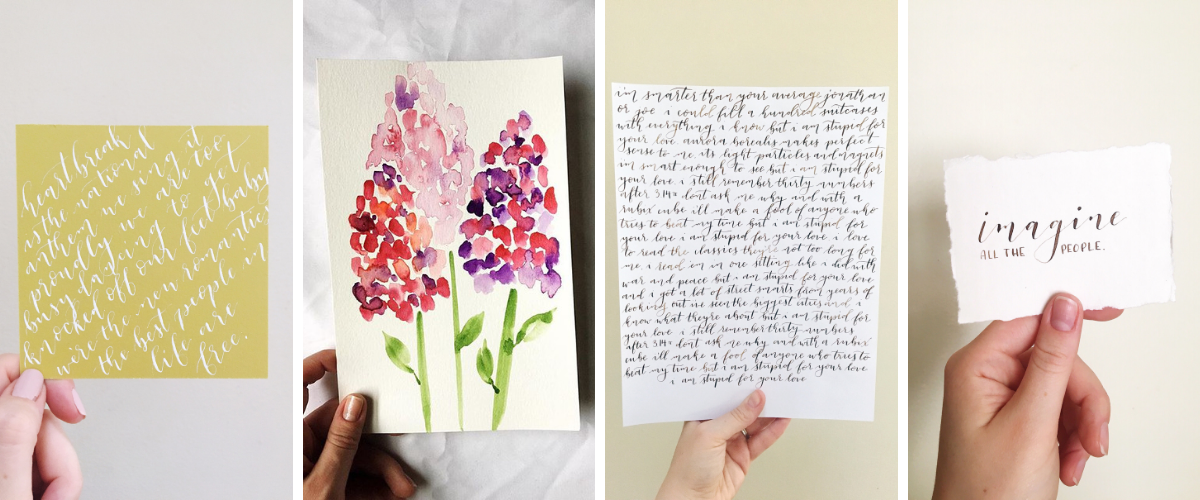 A little bit about me.
Hi friends! I'm Kari, the calligrapher and educator behind Kari Elizabeth Design. I live and work in Rochester, NY and if I'm not prepping for one of my Brainery classes you can usually find me binge-watching Gilmore Girls while trying to get my cat to actually snuggle with me for once (can any other cat-lovers relate?). There are two things I've always been passionate about - educating and creating.
Calligraphy workshops are my way of cultivating geniuine connections within the local creative community while sharing the art form that I love most (because we could all use a little more authentic connection in this digital world, don't you think?).
For those of us who love #allthecreativethings, have you struggled to find that one creative "thing" that lights you up (you know, that feeling you get when the sunshine bursts through the clouds and the angels start singing)? For me, that teaching calligraphy. With what seems like a lost art form, calligraphy reminds me of a simpler time when we sought to make genuine connections with the people around us, instead of just double-tapping that lastest post on Instagram.
That's why I love teaching my calligraphy classes at the Brainery. I'm here to cheer you on and give you all the support you need in order to become a calligrapher extraordinaire!
Where I Teach
I teach at least one or two classes each month at the Rochester Brainery, located in Rochester NY. I also have taught a few classes at local libraries in the Greater Rochester area.

What I Teach
Mainly, modern pointed pen calligraphy. Yes, the calligraphy that's done with the nib and ink! However, I also teach basic brush calligraphy classes using Tombow Dual Pen markers.
How I Teach
My goal is to keep my classes fun, casual, and most importantly, about you! I make a point to give each student individual attention during class and help you learn calligraphy in a way that makes sense from where you are! You'll always hear 80's music playing in the background too because nothing gets you ready to learn calligraphy quite like Eye of the Tiger.